In the world of a numismatist—a collector or expert in the study of coins and other currency—to hold a coin is to hold history in your hand. One November morning, I find myself on the third floor of the Hawai'i Convention Center for the Hawai'i State Numismatic Association's 57th annual trade show, walking among rows of stalls filled with an assortment of coins and memorabilia: jewelry, postcards, stamps, glass bottles. Coins from the Hawaiian Kingdom sit in display cases among South African Krugerrands and tender from the Confederate States of America. Bango, the essentially worthless scrip used on sugar plantations for a century in the islands, are displayed primarily for their historical curiosity, a reminder of the way physical currency is an expression of the economic power held by some—and the denial of power to others.
King Kalākaua's half-dollar coin is one of a set of silver coins that were removed from circulation after the overthrow of the Hawaiian Kingdom.
This commemorative token features Queen Lili'uokalani, the Kingdom of Hawai'i's last reigning monarch.
Named after the Japanese word for "number," bango were usually made of brass or steel and stamped with a plantation worker's number on one side, taking from the tag system used on American slave plantations. Worn as a pendant and shaped according to a worker's race, bango enabled managers to avoid speaking workers' names, standing in for both identification and currency—a way for the laborer to receive pay, do laundry, and make purchases from the company store.
All sorts of currency were in circulation in the islands following Western contact. It was only in the mid-1800s, however, when a Hawaiian currency was established, modeled after the American system of 100 cents to the dollar. The Hawaiian government under Kamehameha III issued its first official coinage in 1847—a large one-cent copper piece that swiftly proved unpopular among local merchants. In 1883, in attempts to reaffirm Hawaiian sovereignty in the face of growing American influence in the islands, King Kalākaua issued a set of silver coins that then circulated alongside U.S. currency.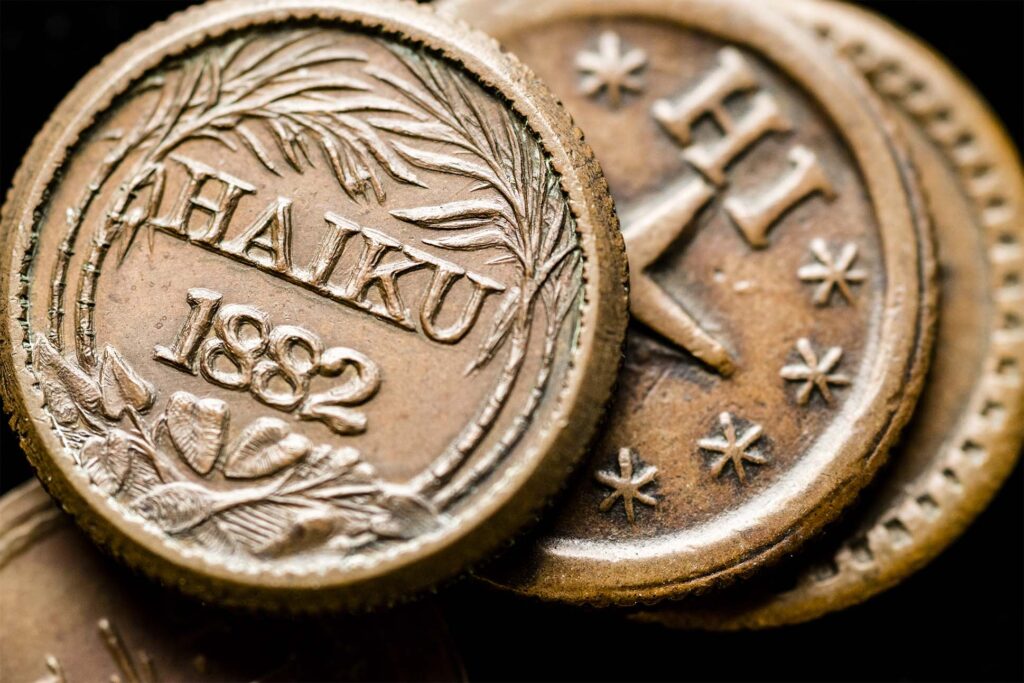 Throughout the 1880s, the Hawaiian Kingdom also produced silver certificates in denominations of $10, $20, $50, $100, and $500, each depicting gorgeous images of pastoral Hawai'i. The $500 note, a veritable work of art of which only two known proofs (non-circulating printings) remain, features a steam locomotive flanked by sailing ships and two oval portraits: King Kalākaua on the left and a man hauling sugarcane on the right. The reverse reads "Hawaiian Treasury" in an arc over the Kingdom's crest, surrounded by ornate shapes and motifs reminiscent of fine Hawaiian quilts. For a time, it seems, Hawai'i had ambitions as an independent nation engaged in global commerce.
Less than two decades later, in 1893, the Kingdom was overthrown, and by 1904, all Hawaiian coinage ceased to be legal tender. The vast majority was recalled and melted, and the coins that survived were comonly made into jewelry, pins, and other souvenirs of the Hawaiian Kingdom. Another mass recall occurred later that century: After the Japanese attack on Pearl Harbor in 1941, the American dollars circulating in the islands were recalled and overprinted with the word "HAWAII" in giant letters, rendering them worthless in the event of Japanese military conquering the archipelago and confiscating its U.S. currency.
These letters are among the ephemera at Hawaiian Islands Stamp & Coin, a retailer specializing in Hawai'i currency and artifacts in downtown Honolulu.
At the Hawai'i State Numismatic Association's coin show, I notice there's not a single credit card reader in sight. Here, cash is king, and business is done the old-fashioned way: hand-to-hand exchange. I continue to make my way from vendor to vendor, stopping to take in the myriad forms of currency on display. Inspecting an ancient Roman coin, I imagine it to be the denarius that Jesus held up when he told disciples to "render unto Caesar what is Caesar's, unto God what is God's." In holding a bango in my palm, I imagine the sugarcane worker it belonged to, tired from a week's worth of toil, exclaiming "bingo bango!" as he slams his piece on the clerk's counter for his pay on Aloha Friday.
I ponder the deeper question of money itself, though I'm hardly the first to recognize that a coin or a bill is only as valuable as we all collectively say it is. Upon returning home from the coin show, curiosity gets the better of me and I go online to peruse more currency from the Hawaiian Kingdom. As I'm hawked ads for cryptocurrency and non-fungible tokens, I find one of the two $500 Hawaiian Kingdom silver certificate proofs is up for auction in Texas, its price yet to be determined by bidders.