Pitacus Chop Art is a treasure trove for fabric fanatics on an ordinary week—a sea of eccentric scraps of kantha, denim, and silk made into wearable works of art. But this is no ordinary week. This week, owner Lisa Wiemken is doing her once-a-year production of purses and bags, and the studio is even more inundated than usual. It's a massive undertaking that leaves her mentally exhausted and the studio buried under all manner of textiles from Africa, India, Japan, and beyond, the majority of them upcycled vintage. Wiemken's bags are highly sought after, completely unique, and mostly cut freehand to preserve the unique designs of every shred.
"I don't wanna waste the original piece of fabric. If you use patterns, you cut away so much," she says. "So every bag will be different in size and shape. Sometimes they're similar shapes—but there's no pattern."
This philosophy of letting the fabrics guide her work, whether it's patching a hole here or stitching a seam there, results in a distinctive patchwork aesthetic that's become Wiemken's signature, one heavily inspired by traditional Japanese boro, meaning "tattered" or "rags." Locals may hear a ring of the familiar in the name: boroboro is part of the island vernacular, referring to something worn out, cheap, or grungy—not exactly something you'd associate with the highest echelons of the global fashion industry, where boro has made appearances in recent years. (Issey Miyake and Louis Vuitton are among the high-end brands that have released boro-inspired designs.)
Japanese denim brand Kapital has amassed a cult following for its elaborately patched and stitched jeans and jackets, remarkable examples of the sophisticated craftsmanship that has defined boro for centuries. For other contemporary brands—like eco-forward clothing company World of Crow, whose breezy cotton shirts feature boro-style patchwork—the aesthetic represents an alternative to the throwaway culture of fast fashion. And for designers like Wiemken, who want their work to be wearable and lasting (Wiemken tells clients that, as long as she's living, they can come back for repairs), they are perpetuating a legacy as heavily layered as boro itself.
To understand how, one must go back to Japan's Edo period. Not to the lavish wardrobes of the aristocracy, but to the uniforms of peasant farmers in the frigid north. The introduction of cotton was a watershed moment for these communities, who wore clothing commonly made of rudimentary plant fibers. Warm, pliable, comfortable, and resilient, cotton was immediately in high demand, but it was also prohibitively expensive and rare. The cotton demand spawned a thriving rag trade in which merchants peddled scraps to peasants, who would in turn use these bits to create and reinforce garments. The cotton clothing was so precious, it would be re-patched over and over, reinforced with an intricate stitching technique known as sashiko to help prolong the garment's life for decades or even generations. After many life cycles, the garments were heavy, many layers thick, and entirely covered in rows of stitching. When the clothes were no longer usable, they were recycled into cleaning rags, mattress stuffing, or food coverings. And when even those pieces were no longer viable, the cloth would be stripped apart and rewoven once again, a practice called sakiori.
"It's incredible how not even the thread is wasted, even at the very end of the fabric's life," says Ann Asakura, co-founder of the Temari Center for Asian and Pacific Arts in Honolulu, as she walks me through the history of boro in Japan and weighs in on its modern-day resurgence. "'Mottainai' [is] basically the precept that you throw nothing away. You don't waste anything: food, money, feelings, clothing."
Boro, then, is about preservation and revivification, functionality and creativity, a reverence for the value of an object and an ability to see its potential as something other than what it is now. Like the concept of wabi-sabi, it's about finding beauty in imperfection and ephemerality.
A week after our chat, Wiemken has finished this year's bag production, and the results are striking. One bag was crafted from deep-blue denim overlaid with a square of striped, fire-engine red fabric, a length of metallic floral silk peeking out from the bottom. Like the boro traditions of old, Wiemken's approach is always function first—she started sewing when she was young and low on funds, piecing together donated scraps when she couldn't afford yardage—but the beauty of salvaged textiles is not lost on her. The people who dressed in those kimono or toiled in those cotton coats are long gone, but there are echoes of them still in the faded colors and worn edges of the garments they wore.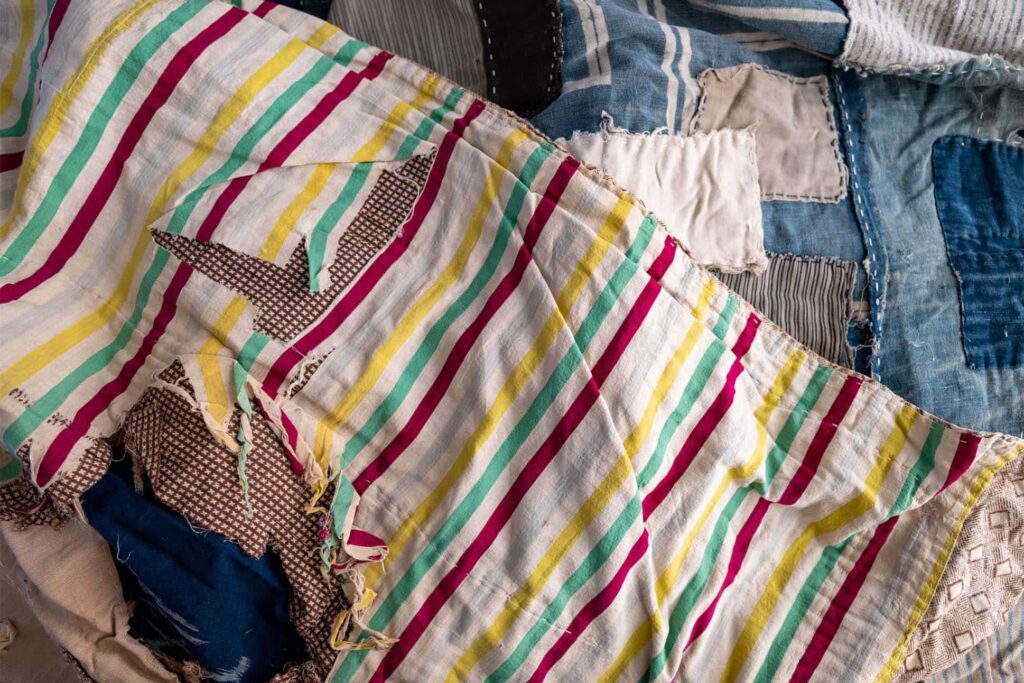 There are those who balk and think, "Cut up a kimono? Sacrilege!" But Asakura disagrees. "What is worse? Leaving it in a tansu (storage chest), where it rots, where nobody sees it? Isn't it better, then, for this piece of history to be shared with all the family? Like a futon cover that Grandma made. Then everybody can have a part of it—or somebody can remake it." Mottainai—waste nothing.